*Pet peeve(s)? I already answered these about DH, but in life in general it's got to be people who don't take accountability in what they do.

*Dream car? Nothing came straight to mind, but when I used to work at that Architecture firm in CA, before I got the graphics position I worked as an office assistant and remember being able to drive some of the owner's BMW's to the dealership to be maintenanced and detailed. So I wouldn't mind having a convertible beamer!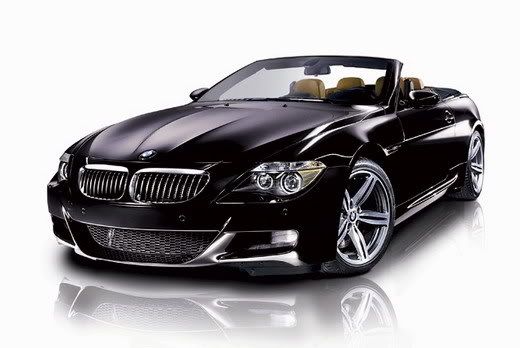 *Do you have any pets? We used to have a big fresh water aquarium in Oregon, but got rid of it when we moved to Texas. No pets right now.
Who is your favorite super hero? LOL never thought about it, would have to be some powerful girl - so maybe cat woman!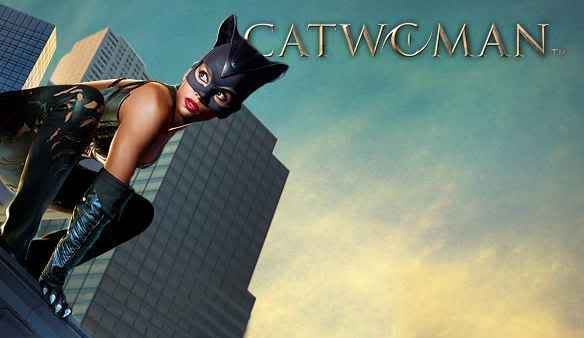 Favorite current children's show? Definitely the Backyardigans - I wish I could pull some of their dance moves!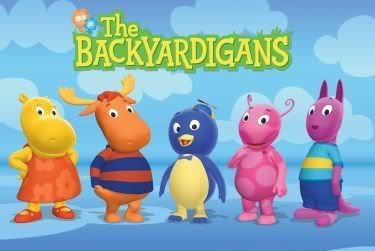 Have you seen any movie nominated for best picture? (I haven't even heard of them) I'm so out off the loop with movies - I just looked at the list and haven't even heard of any of them!
What's your favorite candle scent? I won this candle at a babyshower in 2006, Tahitian Vanilla - smells so yummy!
Do you like cooking or baking more? Probably baking because it's more rewarding at the end, since whatever I bake usually lasts for a few days!
Favorite movie (can't remember if you had this already)? I did have this question, Fools Rush In is one of them.
If you wrote any kind of book, what would it be about? I really enjoyed "The Girlfriends Guide to Pregnancy", read it with both pregnancies and I never laughed so hard - I wouldn't mind writing my own version getting stories and tips from my best friends.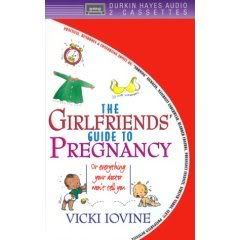 Do you text message? Yup with DH and my best friend every day!
What are your favorite tivo'd shows that you and Dh watch? Prison Break, CSI Miami, Biggest Loser, The Apprentice, Scott Baio 46...and pregnant, Ghost Whisperer...are to name a few right now.
Do you keep your nails long or short? I'd say in between. Luckily I was blessed with my Dad's strong nails, so I can grow them pretty long and they look nice. But I no longer paint them since I wash my hands so much taking care of the kids.
Foot rubs or back rubs? BACK RUBS! I have scoliosis, so my back is often sore and I love getting back rubs!
What time do you go to bed and get up? In bed between midnight and 1am. Up at 8am M-F and on the weekends, if the kids allow it I'll sleep in until 9am.
What does your dream house look like? Great question! My dream house would be a Tuscan Style Home, with beautiful stone work, clay barrel roof tiles, wrought iron fixtures and stair handles, it would have a family area courtyard outside with a fireplace, and a guest house attached.
DH on the other hand likes the Traditional American Style Homes. His big thing is having a wrap around porch, that you can have rocking chairs on and stuff. So I guess we'll have to come to a compromise if we get to ever build our dream home! LOL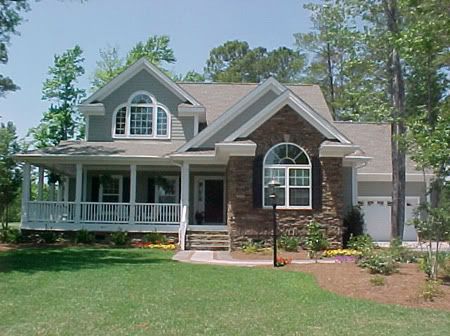 What would you name another child - name for each if you had one right now? For a girl I thought of another French name like Madeline, either Gwendolyn or Monique. For a boy I like Samuel or Soloman.
What is your favourite historical building? Did you ever see it in person? I've seen a lot of old buildings in Europe and I love the architecture. But I'd have to say the ruins at Chitza-Nitza on the Yucatan Penisula were pretty amazing! Went on a trip to Cancun with my parents when I was in middle school. Climbed those steep stairs to the top with my Dad and brothers!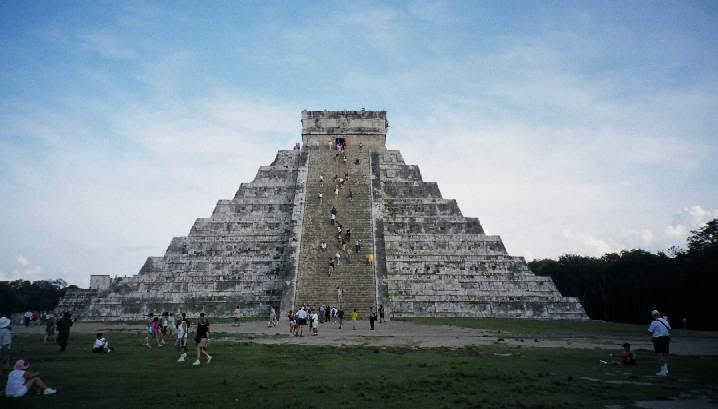 Do you have a favourite painting or piece of art/sculpture? I love Paul Gauguin's work, especially his Tahitian collection. This is one of my favs: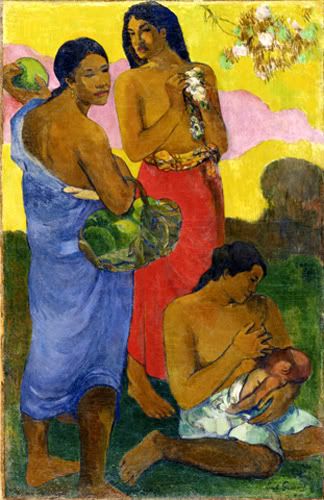 What's your favorite channel on the TV? TLC

Are there any kid's shows that your kids love but you hate? Probably Wow Wow Wubzy.

What's your favorite type of cake? My best friend's mom always makes her a strawberry cake with stawberry icing for her birthday, I never make it but love it!
What is your best talent? I'd probably have to say my penmanship. I've always been complemented on it. I took Calligraphy when I was young and also in college for one of my Graphic Design courses. I hand addressed my brother's wedding invitations - didn't do my own though. LOL
Favorite place to eat in Austin? The Hula Hut!
Any plans for Valentines day? Nope. But DH and I are going to Michael Buble's concert on 2/27 so we'll probably do a nice dinner out that night.
What was your favorite year in H.S- why? Probably my sophmore year, Robyn and I were best friends. She got her license we spent our weekends at her Dad's beach house. It was fun careless times!
Do you sing in the shower or the car? Maybe sometimes in the car if a favorite song comes on.
How many hours do you get to sleep on average? How many would you like? Probably 7, but they're not straight through. Would like 8-9!
What was the first vacation you and dh took together? (maybe pictures??!!) For my graduation from high school my parents sent us to Hawaii for a week to stay at my Oom and Tante's. We had a ton of fun, going to the Polynesian Cultural Center and snorkeling at Hanauma Bay!