So I've updated James' webpage
http://www.babiesonline.com/babies/s/spencebaby2/
with his new 9 month stats. Please check it out and sign his guestbook! Here are then and now shots...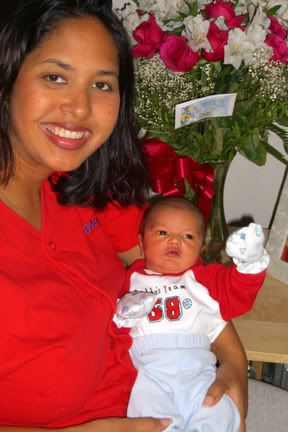 2 days old

9 months old
So living here in TX we have now come to realize about the "bugs" everyone talks about. On the 4th both Stephen and Kiara got bit by fire ants, ouch! And we've had our fair share of crickets and spiders in the house. We've been getting these hairy looking spiders (yuck!) and they scare the jeebers out of us! Here is a link to what they look like, didn't want to post a pic of one and have to look at it everytime I log on to my blog!
http://en.wikipedia.org/wiki/Wolf_Spider
As you can see - YUCK!!! So we finally signed on with a pesticide company like the rest of our neighbors have. They came and sprayed yesterday morning, we went and ran some errands after they were done and when we came home there were a ton of dead bugs all around the outside of our house. Less churping from the crickets last night, and so far haven't seen a bug in the house besides a house fly. Oh and on our back patio Stephen saw 2 dead Black Widows! Eeecckkkk! Hopefully this solves our problem!!!