Each week I chat with a bunch of women on
http://www.babycenter.com/
. I've been chatting with them since my pregnancy with James started. We all had due dates in the first week of October (although most of us gave birth the end of September). Anyhow, it's a lot of fun chatting with these girls, we've all become "cyber friends". Well each week we choose 1 mom to be the "celebrity of the week", ask them all sort of questions, and really get to know them better. Well I was picked for this week. So I thought I'd share some of my Q and A's I've gotten and done so far!



Favorite movie?




Tough one! I love the movie "Fools Rush In" with Salma Hayek.




Kid's book?
Toes, Ears & Nose lift-the-flap book, and also a baby book my relatives sent from Holland called "Baby's Eerste Woorden Boek".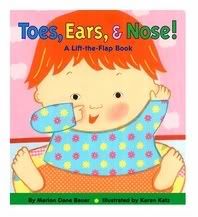 TV Show?
Like my blinkie says, I'm a LOST addict. Man I can't wait for it to come back on!
Favorite outfit to see each of your kids in?
This blue Hawaiian outfit my previous supervisor sent while she was visiting family in Hawaii. He's of course outgrown it. But I did find a similar one at Children's Orchard (consignment store) that was the same brand. James will be able to wear it this summer.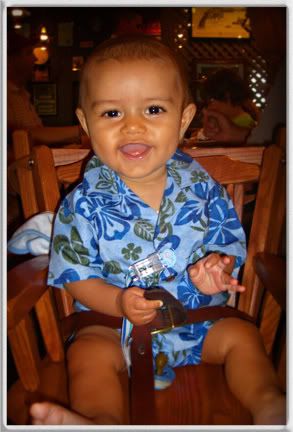 On Madeline it has to be her first 2 Easter dresses. MIL bought them for her, and they were just beautiful! I love purple on her.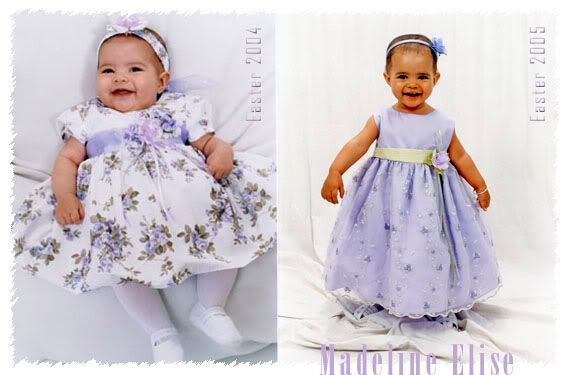 Biggest Fashion Disaster?
Has to be when I was in 5th grade and those skirts with shorts underneath them were popular. Man I wish I had a pic!
How many children to you picture yourself having when you were a kid?
Gosh I think it was 2-3, so I guess I'm on track!
Do you and dh have nicknames for each other?
I always call DH by his full name Stephen (using his middle name too if I'm mad), but most everyone calls him Steve. I also call him Honey. He calls me Lissa, that's been my nickname my whole life.
Can you post your fave pic of your dh and yourself?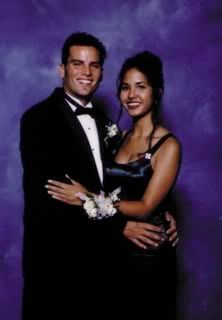 Has to be this nostalgic photo, our first taken together only 3 weeks after we started dating at his senior prom in 1996. When we both look at it we say, "Man we used to be HOT!" ;-)
What was the first thing you noticed about DH?
Well actually it was when his girlfriend at the time came up to me at the lockers in high school to ask me about my job at Chevy's. He was standing next to her, smiled at me and I noticed his gorgeous eyes and handsome face. He won "best eyes" both in 8th grade and his senior year.
What is the one thing you always have in your purse- that is out of the ordinary?
Gosh nothing really out of the ordinary, maybe some Purol (it's a Dutch oinment, can be used as lip balm or an antibiotic cream).
what celeb would you trade places with for a weekend? And what would you do as them?
Ooohhh, fun question! I'd be Oprah! Seems she has the money and ability to do anything! I'd host a "Few of My Favorite Things Show" with all my family, friends and AB friends in the audience!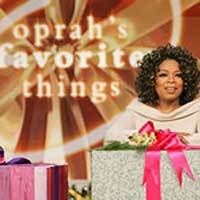 what is the worst thing you ever ate?
My Dad eats this fruit called Durian. He ate it as a kid in Indonesia. Let me tell you I know from a mile away when he is eating it because it has the most awful pungent smell - like dirty feet or something! I tried it but cannot get over the smell, yuck!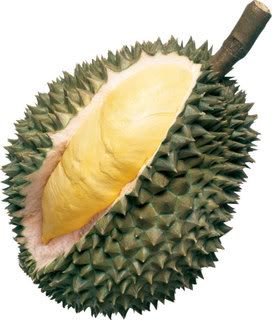 Have you ever traveled to another country? Which one(s)?
Yes, one of the benefits growing up and flying for free with TWA!!! I've been to many different countries including Mexico, Canada, England, France, Belgium, Switzerland, Holland, Germany, and Fiji!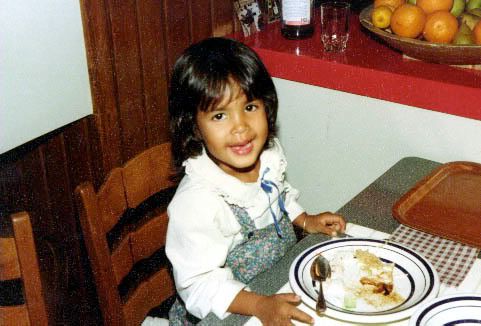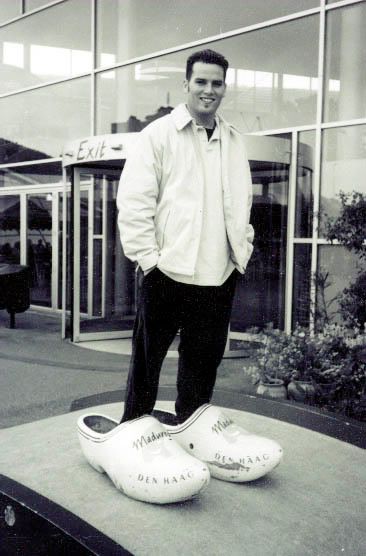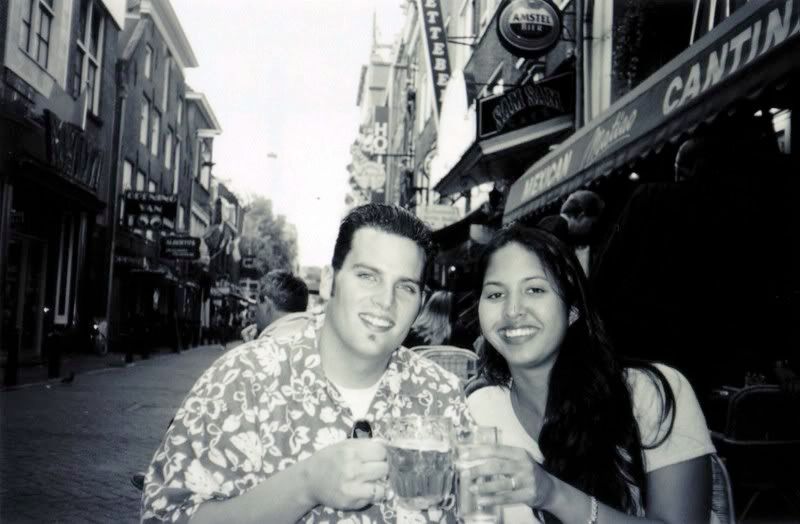 If you were stuck on an island, what is one item you could not live without (aside from the essentials)?
It's a toss up between chocolate or pizza!
Favorite type of music?
I actually have a pretty broad range in taste of music. My all time favorite is Miss Janet Jackson!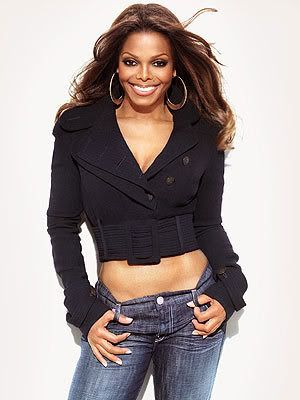 I also love Hawaiian music, IZ is my favorite artist.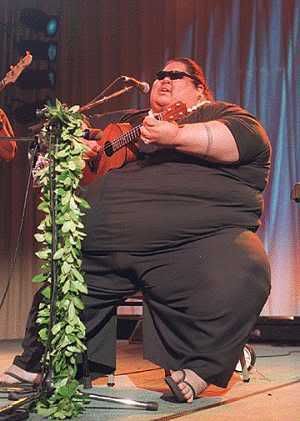 I also listen to a lot of country like Kenny Chesney.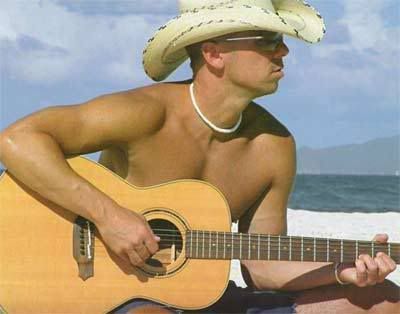 What's the last movie you saw in the theater?
Did you like it?
Ratatouille, it was cute!
Favorite ice cream?
Blue Bell's Anniversary cake flavor! It has yummy chunks of cake and armaretto icing!
Who in your life is your closest girlfriend and why?
I've known my best friend (really I consider her my sister) since my freshman year in highschool, so about 15 years now. It was really hard when I moved away from CA not being able to see and hang out with her. But we remain best friends, text daily, talk on the phone every other day - we can always pick up from where we left off and tell eachother anything. I love her to pieces. My kids call her Aunty Robyn.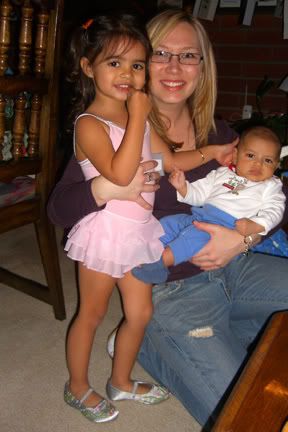 What is one of your proudest moments?
My most recent proudest moment would have to be James' birth. I was so terrified I'd have a repeat L&D like DD's (31 hours, 3 hours pushing). But I stayed super calm, got through it all within 15 hours, and pushed him out in 15 minutes. Maybe it helped my mom was in the room this time.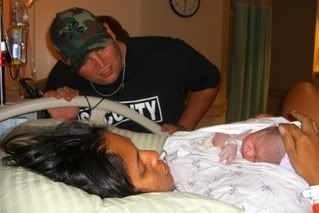 What is your favorite thing about yourself?

I have a really good memory and most of the time it works to my advantage!



Biggest pet peeve?

My husband leaving laundry on the floor, lights on and cupboards open - opps that was 3!



What is one thing you would like to learn more about?

Interesting question as just recently I've been learning about the Mormon religion - not that I'm converting (strong Catholic here!) but DH has a handful of relatives who are Mormon, so I've been emailing back and fourth with them to find out more.



What 3 adjectives best describe you right now in life?

Tough question...colorful, sympathetic and faithful (are those even adj.!? LOL)



Where do you see yourself/family in 5 years?

Gosh probably still here in TX, finally owning our own home, maybe traveling a bit more since the kids will be a little older.



You have 2 hours to yourself, what do you do with that time?

I desperately need a haircut and my eyebrows waxed, throw in a spa pedicure too!



If you could instantly be transported anywhere for a day, where would you choose?

The Sistine Chapel, I think a previous question was where I would want to travel next and I said Italy and Greece.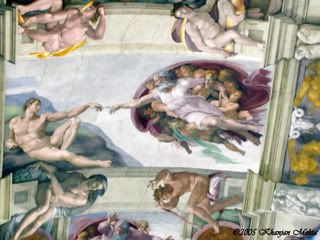 What did you eat for lunch today?
Made the kids, DH and I spaghetti and meatballs, except made it with tube shaped pasta. Yum!
What is your favorite spicy food?
My homemade Salsa!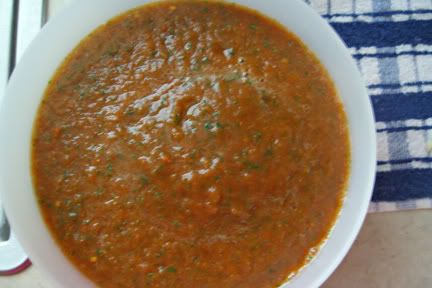 What is the next realistic vacation you would like to take?
Realistically we are going to California in March. We'll be celebrating my 30th birthday, Easter and attending my cousins wedding. This will be our first time having the Hertz perk, so it'll be cool to have our own rental car instead of depending on our parents for rides or to borrow their car.
What is your favorite day of the week?
Wednesdays! DH has W-Th off, so we finally get to relax that day and watch all of our TIVO'd shows!
Stay tuned for another post with more of my Q and A's later this week!