My mom just flew back home today. It was wonderful having her here for a few days. Something about my mom's presence is just so comforting. While she was here we ate at a few new restaurants. Finally hit up a Texas BBQ place called Uncle Billy's. It was pretty good, and mom and Stephen were able to enjoy some of their homemade brews while the kids and I sipped on some sweet tea. Also while mom was here we picked up some yummy ice cream from the market. It's made by
Blue Bell
...not sure if all of you have heard of this brand. It's made here in TX and is only available in about 20% of the nation's supermarkets, it ranks as one of the top three best selling ice creams in the country though. I never have bought it yet since we lived here. It's like Hagandaz ice cream too expensive to buy all the time! Anyways I had seen a special on the local news that
Blue Bell
was celebrating their
100th anniversary
and they came out with 2 special anniversary flavors this year. I had to try one of them...the
Anniversary Cake Ice Cream
...Anniversary Cake combines flavorful almond ice cream with delicious white cake pieces and a swirl of rich amaretto cream cheese icing.
Oh my goodness - this ice cream is to die for!
My new favorite ice cream flavor (I'm usually a Coffee or Mint Chip kinda gal). Mom, Stephen, Madeline and James even loved it! I remember Uncle Steve mentioning something to me about Blue Bell ice cream, now I understand what he was talking about!
Madeline and Mia have been hanging out lately. Mia was over the other day and Madeline wanted to watch one of her current favorite movies, "Barbie's - The Princess and the Pauper". Of course everytime she watches it she wants to dress up like Princess Annelise. So the girls got dressed in their princess gear. Just had to share this adorable pic of them...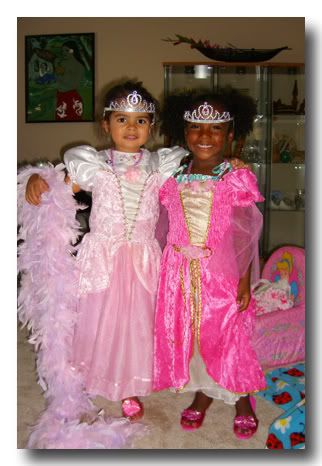 Check them out from head to toe! Mia's brothers came to the door to get her for dinner and the boys were all "wow-ed"...Stephen said to them, "What you boys don't play dress up like this at home with your football jerseys!?" LOL